Blog — progress
Posted by Norli Garcia on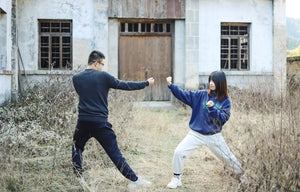 Living a martial artist's life isn't always rainbows and butterflies. There are certain rules you must remember as a martial artist. There are disciplines to follow and one of which is to always bring respect, honor, and discipline wherever you go.  Despite that, having martial arts in your life will help you be more focused, goal-oriented, and apply all the things you learned from training to the real world. Here are 6 signs that martial arts have truly taken over your everyday life: Training, Training, Training As a martial artist, training is not an option. It is a necessity. To...
Tags:

aspiration, benefits, body conditioning, camaraderie, companionship, discipline, dojo, dreams, exercise, fight, fight conditioning, fitness, inspiration, lessons, martial art discipline, martial art style, martial art Tiktok, martial artist, martial arts, martial arts school, mental training, mindset, motivation, positivity, practice, progress, respect, self-defense, self-defense women, skills development, sparring, strength, strength conditioning, training, training program, whistlekick, workout
Posted by Norli Garcia on
"The more you sweat in training, the less you bleed in combat" - Richard Marcinko Motivation, it is something that we all need as humans. Having motivation for martial arts training will help you stay focused on your practice and achieve future goals. It is crucial to your success in martial arts as well as in your daily life.  Are you losing motivation in training? Below are 5 ways to improve your motivation for training and continue your martial arts journey with a little more inspiration to reach your goals and dreams. Be inspired It is normal to lose motivation...
Tags:

artist, aspiration, benefits, body conditioning, dojo, dreams, exercise, fight conditioning, fitness, goals, inspiration, karate, martial art discipline, martial art style, martial artist, martial arts, martial arts school, mental training, mindset, motivation, positivity, practice, progress, respect, routine, self-defense, strength conditioning, training program, whistlekick, women, workout