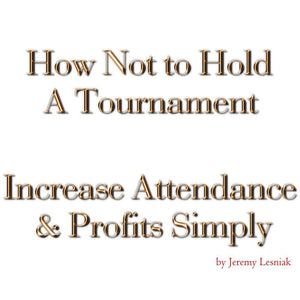 e-Book and Course - How Not to Hold a Tournament
For over a year, whistlekick Founder Jeremy Lesniak worked on the writing for a new course. Frustrated with the way many - or even most - tournament promoters operated, and believing it was hurting both our industry and their wallets, he went to work.
Also available as a book alone, exclusively on Amazon:
https://www.amazon.com/dp/B06XD26766
Much of the information here is based on what worked (& didn't!) from our successful first-ever event in April of 2016. The rest comes from industry experts, fellow tournament promoters, business owners and decades of experience in marketing.
This course is broken down into an easily-readable 56-page book, dozens of templates, tracking spreadsheets and more. Every element is explained in the book, along with context, anecdotes and stories to help you understand what will work best for you, and when to do it.
Whether you're a veteran promoter or you've never put on any sort of event, this course will easily make you more money than you paid for it. We guarantee, in fact, that if you follow the advice in this course you'll make double the amount you paid for the course, or we'll give you a 100% refund.
The marketing, logistics and human psychology knowledge that's contained in this course are based on decades of experience from not only the author but countless others who helped in crafting this book.
Requirements: All templates are in both PDF format and in Microsoft Word, Excel or Publisher. The accompanying book is in PDF & ePub format. Tracking & planning sheets are only available in MS Excel format due to their layout requirements. If you need a file converted to a different format after purchase, please email us and we will do our best to accommodate your request.
If you'd like to receive FREE Updates for life, email info@whistlekick.com with the subject Free Updates, and we'll be sure you receive access to our no-charge updated versions as they're released.
Once you complete your purchase we'll email you a link to download the entire course.