Blog — self-defense women
Posted by Norli Garcia on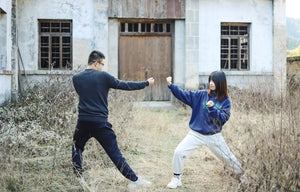 Living a martial artist's life isn't always rainbows and butterflies. There are certain rules you must remember as a martial artist. There are disciplines to follow and one of which is to always bring respect, honor, and discipline wherever you go.  Despite that, having martial arts in your life will help you be more focused, goal-oriented, and apply all the things you learned from training to the real world. Here are 6 signs that martial arts have truly taken over your everyday life: Training, Training, Training As a martial artist, training is not an option. It is a necessity. To...
Tags:

aspiration, benefits, body conditioning, camaraderie, companionship, discipline, dojo, dreams, exercise, fight, fight conditioning, fitness, inspiration, lessons, martial art discipline, martial art style, martial art Tiktok, martial artist, martial arts, martial arts school, mental training, mindset, motivation, positivity, practice, progress, respect, self-defense, self-defense women, skills development, sparring, strength, strength conditioning, training, training program, whistlekick, workout
Posted by Norli Garcia on
When we hear the term Martial Arts, we tend to think of it as exclusively for boys or men. Society has built this norm that women should be timid, reserved, and modest. But this is the 21st century. Women can do everything they aspire to be and join and do activities that men do, including martial arts.   Martial arts training has grown in popularity among all ages and it brings a lot of benefits to our physical and mental well-being. It's something you could learn, enjoy and apply to your lifestyle. Still not convinced?    Here are 3 things...